THE WILL/FAMILY TRUST OF JAMES BALLENY ELKINGTON
I JAMES BALLENY ELKINGTON of 128 Newhall Street Birmingham Esquire hereby revoke all former wills codicils and testamentary instruments made by me and declare this to be my last will. I appoint my wife Emily Elkington and my son George Meredith Elkington of Westfield Road Edgbaston Birmingham Esquire and my nephew Gerard Bartleet Elkington of 19 Randolph Road Kensington London Esquire (hereinafter called my trustees) Executors and Trustees of this my will:
James B. left all his household effects including (jewellery & pictures) to his wife Emily during her widowhood with the request that all were well insured against lost or damage by fire and after her death or should she re-marry, these will revert back to the James Balleny Family Trust. He also left two hundred pounds to be paid to his wife within three months of his death.
Emily Elkington also received an annuity of five hundred pounds free of all death duties payable during her widowerhood commencing from the death of James B. Elkington 7th August 1907.
James Balleny Elkington left all his real estates of every tenure wherever situated including real or personal estates over which he had any general power of appointing or disposition by will unto the use of his trustees, their heirs (Emily Elkington in her widowhood, George Meredith Elkington, James Llewellyn Meredith Elkington his wife Rachel Kavanagh and daughter Margaret K. Elkington).
Witnesses Henry Reeves 93 Eaton Terrace London SW Lodging Housekeepers and Alice Ann Reeves 93 Eaton Terrace S.W. Lodging Housekeepers.
On the 7th day of August 1907 the Probate of the Will was granted to Emily Elkington, George Meredith Elkington and Gerard Bartleet Elkington the Executors
George Meredith Elkington died 1913, Emily Elkington died 1921,
Gerard Bartleet Elkington died 1933; James L.M. Elkington died 1925 NAIVASHA Kenya
Still no death certificate of James L M. Elkington or where he is actually buried
Rachel Kavanagh Elkington died 1964 Nairobi Kenya, buried at St Mary's Parish Lower Kabete/Nairobi.
Margaret Kavanagh Elkington??????? Still searching for true information!
James Llewellyn Meredith Elkington's Will
Please note that I have removed the above will from my Web Site, as I am not sure of its authenticity:-
After 4 years of thorough research, through various British Colonial Offices, Margaret Elkington's Memoir, qualified researchers, various relevant books, internet information and contacting family members; the mysterious death of our Grand Uncle Jim and his daughter Margaret is still not clear:-
There is no official copy of the death certificates-
There is no record the official graves
The Law Society of England and Wales informed me that there was no record of any solicitors called William Woolley of 40 St Mary`s Gate registered in their files in 1926.
Our Aunt Irene told us that the Elkingtons and the Delemares were mere acquaintances who just happened to be neighbours when they first arrived in Kenya.
I contacted 3 leading ex-pioneer families in Kenya one of them being Family in question by registered mail but received no reply. Margaret and her mother did not receive any money or assets they were entitled to according to Jim`s Will. They lived and died in great poverty after Grand Uncle Jim's death.
Read Margaret Elkington's Diary, Recollection Of A Settler In Kenya 1905-1970` at Rhodes House Oxford
Our great, great grandfather, George Richards Elkington wrote his own will and his Executor of the will and Trustees were his own sons. At the untimely death of our great grandfather Howard Elkington, 1898 his brothers were the Executor and Trustees of his will. James Elkington 1830-1907 (Jim`s father) was executor of both his Brother Howard Elkington's Will as well as that of his own family; two sons George Meredith and J. L.Meredith and his 2nd wife Emily. He had officially appointed his nephew Frederick`s son Gerard Bartleet Elkington as their Trustee and Executor of both wills and he was alive and well at the death of both J.L.M. Elkington in 1925 and Ernest Howard Armstrong Elkington in 1928 Kenya. Gerard Bartleet died in 1933
JAMES LLEWELLYN MEREDITH ELKINGTON
James Llewellyn Meredith Elkington´s Family History
James Llewellyn Meredith born on 16.4.1875 in Brighton, Sussex, was the
younger son of James Balleny Elkington (1830-1907) and Margaret Elkington
(1834-1886).
James Balleny was the third son of George Richards Elkington (1801-1865),
and the founder of one of the finest sliver plating businesses in England.
and Mary Auster Balleny (1803-1858) Elkington.
Howard 1835-1898 became a director of his father´s Elkington & Co, in Birmingham in 1851
and was sent to open the new Copper-Smelting Works at Prembrey with Josiah Mason and Henry Elkington. He lived in a house called Plas Newydd and a couple of years later joined by his older brother James Balleny who lived in a house called Pembrey House.
On 12 June 1888, when James Balleny was 58, he married his second wife
Emily Jane Hilbers Sussex, daughter of George James Hilbers, J.P., in St. Patrick's Brighton.
Emily Jane born about 1830 descended from Edward III.
Emily Jane Elkington died in Godstone on 31 August 1921.
James` Older Brother
James (known as Jim in Kenya), had an older brother called George Meredith
(1863-1913) was born in Dell Cottage, Northfields, Worcester. George
Meredith died in Ramsgate on 13 Feb 1913, he was 50 years old.
He worked as a chemist for Elkington & Co Ltd which was formed on 18 May
1887; he like the rest of his five uncles and Cousin Herbert Frederick
Elkington also owned one share only of The Elkington & Co Ltd.
He was educated at Uppingham and spent time at the School of Mines.
James´ Childhood/Education.
Sadly James´s mother, Margaret died in 1886 at (Permbrey House) when he was only 11 years old.
At his father´s death in 1907, James also adopted his mother´s maiden name "Meredith" in order to difference them from the rest of the Elkingtons.
James attended Eton College from September 1888 to 1892. He was a member of the Shooting VIII in 1891 and in 1892 he rowed in the Procession of Boats, suggesting some ability as an oarsman.
James´ Career/Marriage
On leaving Eton took no interest in the family business but apparently took a part time interest in military matters being listed as an officer in the Militia Battalion of the Worcestershire Regiment for a couple of years.
In 1895 when James was 20, he married Rachel Kavanagh, in Hereford. They had one child, a daughter called Margaret born the same year.
James Migrates to Kenya
James, his wife Rachael and daughter Margaret were lured to Kenya by the fantastic tales of the spectacular scenery and the abundant panorama of the various animals in their natural habitat. They arrived in Kenya on 27 July 1905.
The land for the British subjects and other Europeans was very cheap, with good loans and cheap labour. But they were not told of the perilous natural disasters of severe droughts, floods, army worms and locusts which could devour crops within days and serious human and animal diseases which could suddenly kill animals and people in great numbers, especially horses were extremely vulnerable, that people were forced to revert using ox-carts as
main means of transport instead of the horses and coach the Elkingtons´ thought would be in great demand.
Cousin Ernest Howard Armstrong Elkington Joins him in Kenya
It was at this stage that Ernest Howard Armstrong Elkington James's favorite, cousin decided to join them and arrived in Kenya on 1st January 1906 only to find the scheme of his cousins was not as prosperous they had planned or expected.
The Elkington Family were well received in the highest circles
The young Elkington Family had great plans to establish a farm and also rear horses for sale, as during that period there were no motor vehicles in Kenya. They arrived in Mombasa in July 1905 and acquired a small holding in Kericho at a place called Sixty-Four ( Eldoret).
At this period the Elkingtons were very well received in the highest circles due to their World famous electro-plating family business background and also their adventurous pioneering spirits. It is stated that they used to entertain royalties and high British Government Dignitaries.
The Elkington Lion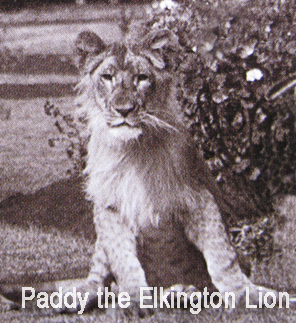 The Elkington`s James known as "Jim" wife Rachel and only child Margaret arrived in Kenya on 27 July 1905, followed by his older Cousin Ernest Howard Armstrong Elkington on 1st January 1906 who were lured to BEA by their Etonian friends; Lord Delemare, Grant, Carven to witness the fantastic Tales of the spectacular scenery and the abundant panorama of the various animals and other strange wild species of wildlife at their natural habitat. They resided at a small holding in Kericho, at a place known as 64, whose nearest neighbour were Lord Hugh Delemare and Charles Clutterbuck a good horse trainer and farmer who had a daughter called Beryl and behind the work shed of the Elkington`s residence was a Hindu Blacksmith called Bison Singh.

The Elkington`s had planned to start a horse and coach business as this was the main means of transport during this period but due to serious human and animal diseases which killed hundreds of both men and beast, the scheme in Kenya was thwarted added to this the following occurred:

A Royal Safari Hunting Party accidentally killed a lioness which was still suckling her 3 baby cubs, they were extremely sad at this mishap and decided to take these cubs to the British Zoo but unfortunately the crates which were ordered for the transport proved too large for the railway carriage and hence they were left behind.

Rachel known s "Mrs. Jim" hearing of this sad incident decided to adopt the 3 cubs but shortly upon arrival at the Elkington Farm, 2 cubs died of fever and only one was left which they named Paddy. Paddy was a very lively and playful cub who was much loved and had the free run of the property but as the months flew by he got bigger and stronger but still everyone thought that once a lion cub having being raised by humans from the start could be considered to be tame, however this was proved very wrong:

Charles Clutterbuck and his young daughter Beryl, known in most of the books as Beryl Markham came to buy some horses whilst her father and Jim were discussing business she walked around the property when she suddenly sensed danger but she had the good sense of mind not to run but kept walking and singing whilst the danger "Paddy the Lion" was creeping closer and closer, luckily the Black Smith, Bison Singh noted the danger and shouted on top of his voice which brought people running from all directions including Bwana Elkington who came running with the whip in his hand, saw Beryl already on the ground and the Paddy ready for the kill, he dashed with only the whip as his weapon and somehow managed to distract the Lion from the young Girl but instead found he had became the prey so he threw the whip down and ran as fast as he could and climbed the nearest tree! Paddy the Lion suddenly came to his senses and ran away! –But it is said that within 36 hours he had killed a horse, an ox and a cow.

Beryl was carried by Bishon Singh to the Elkington`s home stand where the scratches on her legs were taken care off, but Paddy the Lion's life changed forever as he was caged until he was put to sleep after "Jim's untimely and mysterious death in 1925.

The Elkington family "Jim" moved to Masara in Nairobi where he started his Masara Hunt Club whist his cousin Ernest bought a farm in Kamiti on the outskirts of Nairobi where he married a Kenyan wife and raised 6 children 4 sons and 2 daughters.

Beryl born 26 Oct 1902 Leicester died 3 August 1986 Nairobi. Her mother was called Clara and only sibling a brother called Richard who resided in England. The family came to Kenya in 1905 It is said that Beryl's first language was Swahili and that she did not go to school until the age of 13 but left at 17 since she did not like the school life. A tutor was employed but soon left as Beryl rarely turned up for her lessons

Charles Clutterbuck moved to Peru as his business went bankrupt but his daughter Beryl refused to go with him, went to Molo instead where she obtained a Horse Trainer's License before marrying a Scots rugby player called Jock Purves whom she divorced in 1924. . Three years later she married Mansfield Markham and after their Paris honeymoon they lived a society life in London for 6 months before returning to Kenya where her son was born in 1929 but sadly he sustained some injuries during birth and had to undergo several operation before being sent to England for the best possible treat and shortly after this Beryl divorced her 2nd husband.

Through assistance from amongst them Denys Finch Hatton Beryl managed to obtain her Pilot's licence on 13 July 1931.

In 1942 her famous book West with the Night was published.

My Sincere Conclusion: I believe strongly. (but might be wrong) that Bwana Elkington referred in this Elkington/Beryl Markham article was our Grandfather Ernest Howard Elkington who was strangely rarely mentioned in any of the books written during this period as he was also residing at the 64 Farm during this period:-


Everyone refereed to James L.M. Elkington as Mr. Jim and his wife Mrs. Jim and his cousin Ernest who arrived a few months later as Bwana Elkington.
The article is called the Man of Mystery –no one can say Jim was a man of mystery as he was always surrounded by dignitaries and his friends.
Jim like his nephew Jimmy (our uncle who died in 1979) were both very intelligent good and strong men but hated hunting and were in general afraid of wild animals hence he always had his friends around him whilst his cousin Ernest was a loner as being the Eldest son had to travel to England once every year to take care of his family business he was away sometimes up to 6 months per year.

The main difference between the cousins was that Ernest was a very keen, fearless hunter and a crack shot too boot like his second son Richard (my father) whom people called Bwana Tiger as he was a very gifted, intelligent, kind and generous man and both hunted only for food never for trophies!

So, if anyone can clarify my doubts, either way, will really appreciate to hear from you in order my George Richards Elkington Book may be as accurate as possible! 22 August 2007 by Gladys Nilsson-born Elkington

The Elkington Lion/Beryl Markham/Bison Singh





Read "The Duke of Connaught/White Mans Country/Equator Ranch"

They were in the process of starting a Masara Hounds Club in Kericho when natural disaster struck of severe climatic condition and also the Colonial British Government after the First World War decided to change the currency from rupees to shillings. The rupee had been valued at 1s 4d but after the change it was valued at 2s. Almost overnight, overdrafts were increased by two thirds. It is further stated that many soldier settler who had put their gratuities into farming and borrowed heavily on them was also ruined but this did not affect the Elkington Cousins as they had their financial Elkington & Co secured in England and Wales but they left all the same for Nairobi as it was more civilized and there was a lot of social life.

.


MASARA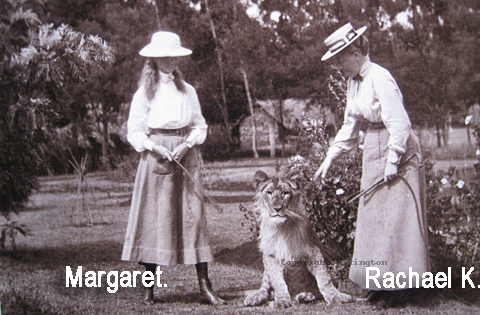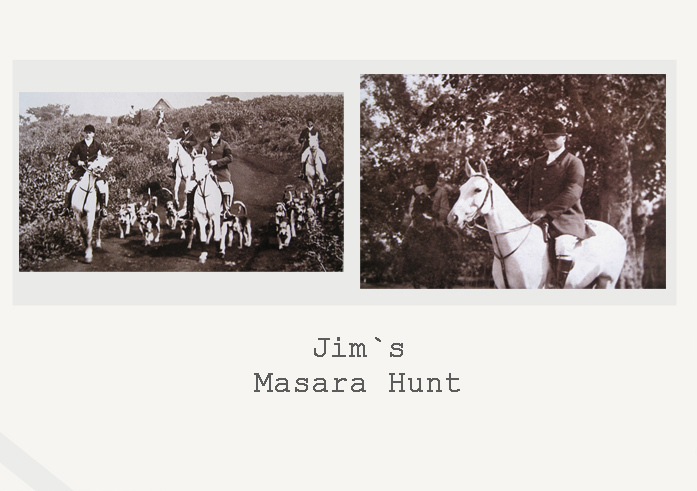 When the Elkington`s first arrived in Nairobi they rented a wooden house from Mr. Evans and Langmore.
Their nearest neighbour was Dr. Marsh. The area was called Spring Valley.


The Elkington`s later bought 100 acres of land at a place called Kyuna on the North of the Mathari River where they entertained the Duke and Duchess of Connaught under a tree in 1910.

It is said "Jim Elkington" was one of the first race horse owners in Kenya and also the first Master of the Masara Hounds, he also owned 30 couple of English Foxhounds.

Jim Elkington`s Hunt wore pink (scarlet) coats with black velvet collars and black caps.






Move to Nairobi

It is said that James and Rachel raised their daughter Margaret in the strict Victorian Code of child up bringing and that she wore the same style of clothing from 1905 through-out her life.
Margaret attended the Loretto Convent School up to 4th grade and after this a Governess called Miss Gray was employed who only left in 1913 (to get married in Ceylon). When the Elkington family had to attend George Meredith Elkington`s funeral (Jim's older brother).
After the death of James L.M.. Elkington`s stepmother Emily Elkington, Jim became the sole beneficiary of his father's Family Trust Fund in which George M. Elkington, Emily Elkington and Garret Elkington (cousin) were Trustees and Executors however in order to also inherit his Grandfather George Richards Elkington`s Family Trust he had to reside in the United Kingdom as his Masara Home could not be considered a holiday home, hence it was put up for sale: Following article appeared on the East African Standard


"A Popular Sportsman

Withdrawal of Captain Elkington, from local Racing. There are few who have not heard of Masara that beautiful stretch of country, whereon are the famous racing stables of the Master of his Hounds, Capt. J.L.M. Elkington. That this beautiful piece of ground with the well appointed house thereon, well kept lawns, guest house, racing stables with 42 well built boxes on absolutely virgin soil, two well built stone houses and about 60 acres of coffee are to be vacated by him after the January Race Meeting, will not only be a blow to the many who have spent happy days there but to the general sporting public. And to the Kenya Turf, for it is Capt. Elkington`s intention to give up Racing entirely and to live at Elmenteita."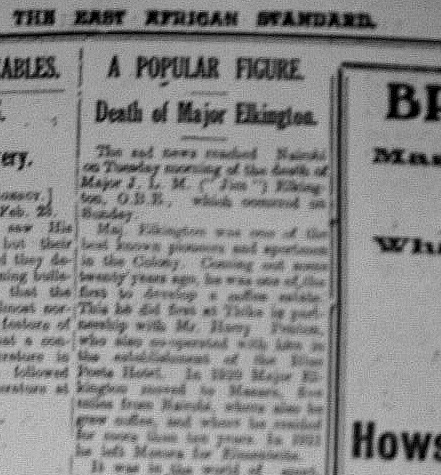 Obituary
Saturday, Feb. 28, 1925 THE EAST AFRICAN STANDARD

CAPT. J.l.M. Elkington of Busilunghun, Elmenteita, Kenya Colony British East Africa died on 22 day of February 1925 Kinangop, Naivasha B.E.A.

The sad news reached Nairobi on Tuesday morning of the death of Major J.L.M. (Jim) Elkington, O.B.E. which occurred on Sunday.

Maj. Elkington was one of the best known pioneers and sportsmen in the Colony. Coming out some twenty years ago, he was one of the first to develop a coffee estate. In 1910 Major Elkington moved to Masara, five miles from Nairobi, where also he grew coffee and where he resided for more than ten years. In 1921 he left Masara for Elmenteita. It was in the world of sport however, the Major Elkington came most prominently before the public notice. He was one of the fathers of horse-racing in this country and it is largely due to the impetus that his keenness gave to this form of sport that racing has taken a firm hold of Kenya. His racing stables at Masara were among the first large stables established in this Colony.

He imported good blood. He was the owner and importer of Shafts mare and he engaged the services of James Weston as trainer and jockey. His stables were enlarged from time to time. He threw himself into the sport but subsequently developments let him to withdraw from this active participation in racing after the war when thoroughbreds came to this country in increasing numbers.

He will always be remembered as owner of the Masara Hounds which he kept at the Kennels near his Masara Home... Hundreds of people have enjoyed the Sunday morning hunts with his pack in the country around Nairobi.

During the war major Elkington was for a time in charge of the Remount Camp in Kajiado; subsequently he became a member of the Censorship Staff in Nairobi.

He leaves a widow and daughter to whom we tender our sincere sympathy in their bereavement.

Major Elkington is to be buried at Naivasha at 9 o'clock this morning.

In Spite of the above announcement in the East African Standard of 28 Feb 1925 Jim's Bereaved family's suffered greatly as their monetary funds were withheld by the Solicitors and when Rachel died on 1st May 1964 immediately strange people calling themselves the Elkington Trustees sold the Masara Property to a Mr. & Mrs. Adamson, who agreed to let Margaret use the house, cottage, stables and 25 acres rent free for life. (Last entry April 1971)

James was buried near his cousin Ernest Howard Armstrong Elkington at an Unmarked-grave.

Margaret was forced to work as a housekeeper in a school before all trace of her disappeared. Some say she died in 1976, others say she went to Mombasa but the fact remains;

Margaret Elkington granddaughter of James Balleny was in actual fact an Heiress as she was the sole member of James Balleny Elkington alive in the 70´s.

Her Uncle George Meredith died in 1913 and step mother in 1921.

Read the above Wills James Balleny and James L.Meredith Elkington.